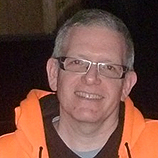 Nicholas Jainschigg is the cover artist for the first edition novels of the Glittering Stone tetralogy, which make up the last four books in the Black Company series. He is an associate professor at the Rhode Island School of Design.
His faculty page: www.risd.edu/academics/illustration/faculty/Nicholas-Jainschigg
Ad blocker interference detected!
Wikia is a free-to-use site that makes money from advertising. We have a modified experience for viewers using ad blockers

Wikia is not accessible if you've made further modifications. Remove the custom ad blocker rule(s) and the page will load as expected.